We were lucky enough to have Anna from Locomo come into the clinic the other day to show us the latest and greatest walking aids available. Locomo stocks premium walking aids, that are not only functional but look great too. Locomo has a wide range of walking aids, including: walking frames, 2-in-1 walking frame to wheelchair, walking sticks, and nordic walking poles available for purchase.
Here are some of the innovative products that Locomo has to offer:
The Rollz Motion 2 in 1 Walking frame converts easily with a few clicks to a wheelchair, ending worries over how far you will be able to get. This is ideal for people who want to keep moving as much as possible but are worried about how far they will be able to get before needing to sit down. With the Rollz Motion, when you're ready for a rest, easily transform it to a wheelchair and you will be able to continue on with your day.
We were really impressed with the stylish ByAcre Carbon Ultralight Rollator. This impressive walking frame is made of carbon fibre which means that it is super lightweight and weighs only 4.8 kgs. Another added feature of this walking frame is how compact it is when it folds up. The combination of being super lightweight and easily compact-able makes the ByAcre Ultralight Rollator really easy to manoeuvre and lift into the car for outings. The ByAcre Carbon Ultralight Rollator was also the winner of the 2019 Red Dot Design Awards in 2019.
Another fabulous walking frame that Anna brought along to show us is the Rollz Motion Rhythm. This walking frame is specifically designed for use in neurological conditions such as Parkinson's Disease and features customisable cues, with up to 3 stimuli to choose from.
1. Visual: A green laser line projected to the ground to break freezing and increase step length.
2. Sound: A metronome sound customised to the desired stepping frequency.
3. Vibration: The handles provide a vibratory cue, which is not discernible to other people around you.
Cues can be turned on or off with the simple push of a button on the handle. Even more impressive, it can be linked to an app downloaded onto any smartphone and the highly customisable cues can be set to your therapist's or your own desired specifications. This model also has slow down breaks helping to control the speed of walking and the ability to convert to a wheelchair with the wheelchair add-on.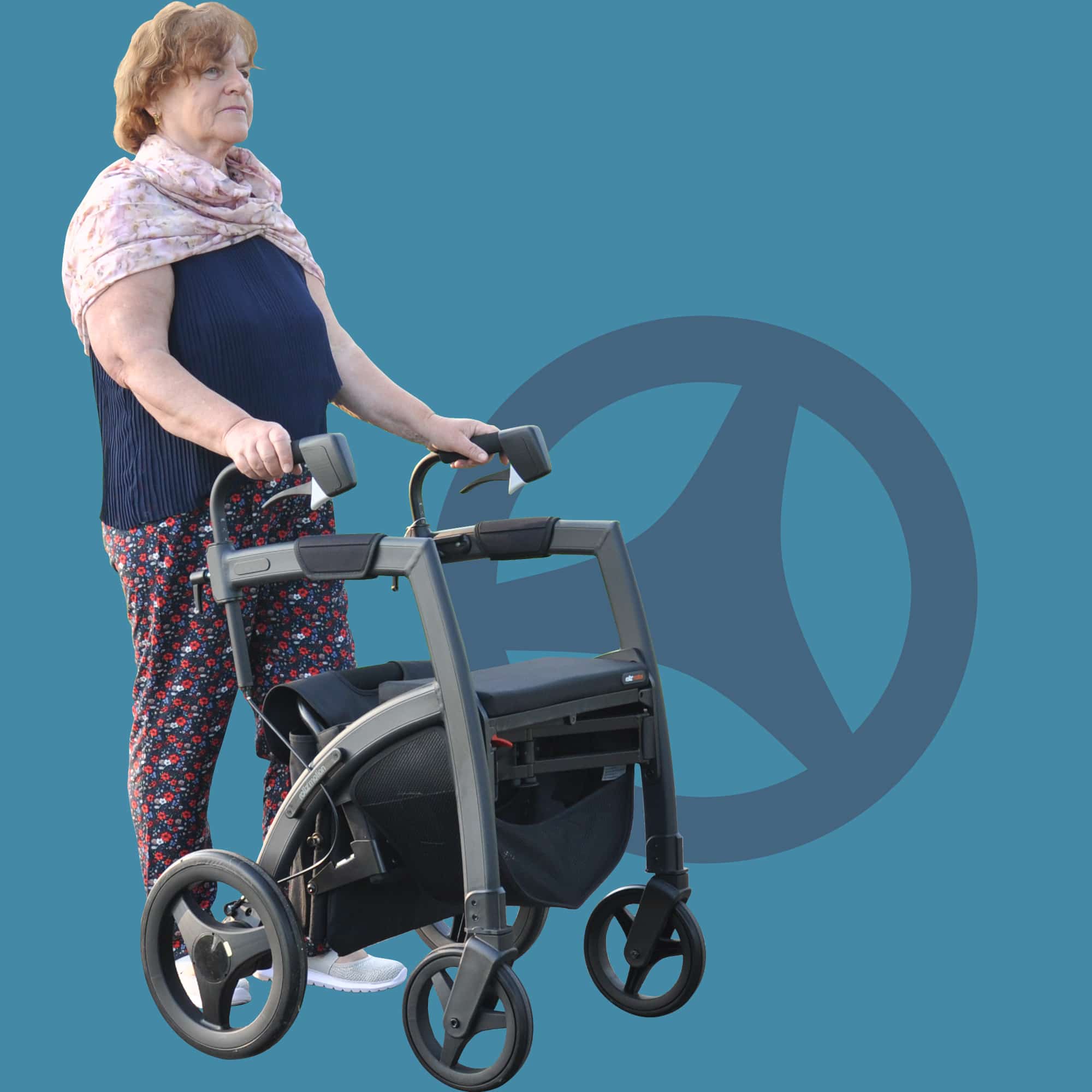 Image credit: https://www.rollz.com/rollz-rollators/rollz-motion-rhythm-parkinson-rollator/
Specific details about Locomo's products is avaible on Locomo's website: locomo.co.nz
We also have a few in stock at the clinic and would be happy for you to come in and have a look!